Featured Guests
Featured Guests
Retro Gaming: Angie Rush and Les Edwards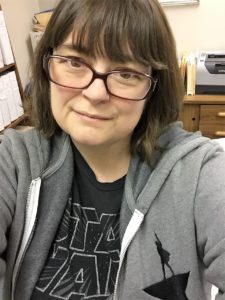 Angie spends her days wrangling lawyers and her nights in her retro game filled Nerd Cave, hoping to someday beat her Millennial daughter at Galaga.
Les Orchard is an elusive hermit who works for the Mozilla Corporation. He can sometimes be lured out of hiding with books, burritos, booze, and video games.
Join us for Retro Gaming! Including systems from Atari to Game Cube and (almost) everything in between, join us for four hours of reliving your childhood!
Food Track: Julie J. Lesnik, PhD
Julie is an assistant professor in the Department of Anthropology at Wayne State University in Detroit, Michigan.  She received a PhD in anthropology and a MS in kinesiology from the University of Michigan in 2011. Her primary interest is in the evolution of the human diet, specifically in regards to entomophagy, or eating insects.
Science Track: Greg Less
Greg Less is the Senior Laboratory Manager at the UMEI Battery Fabrication and Characterization User Facility, responsible for the day-to-day operation of the laboratory. Greg received a doctorate in Chemistry from the University of Michigan.  His work was featured on a recent episode of Nova.