Presenting at Penguicon
Presenting at Penguicon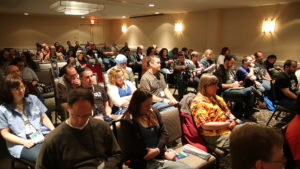 Event submissions are closed for Penguicon 2017. If you have an awesome idea you didn't get to submit, we hope you'll save it for 2018!
Penguicon Programming is as vast and various as our attendees. That's just how we like it, too! Whether you are a veteran speaker or beginner panelist, we welcome panels of all types and sizes.
Types of panels at Penguicon:
A panel is any discussion with multiple planned participants who get up in front of an audience and discuss the topic, usually as someone with experience.
A talk or lecture is a talk delivered by one planned person. This is usually a subject matter expert of some sort.
A round table is a small session in which every audience member is an active participant. This often occurs when a panel attracts such a small audience that the audience is invited to join the panel to talk. These are often rewarding.
A birds of a feather session is any discussion scheduled without official panelists. This is where you just show up and talk with whoever comes to chat. If you don't want the responsibility of running a panel, this may be for you.
A workshop is often done in smaller groups and involves a panelist and attendees for 'hands-on' education.
A demonstration is a panelist providing hands-on education of an activity or a technique.
A music/film/spoken performance can be given live, before an audience, and often from the auditorium located in the Westin.
Do you have more questions about Penguicon Programming? Check our Presenter FAQ!
Be sure to add programming@penguicon.org to your address book to receive our emails.
**Note: We reserve the right to alter panel titles, descriptions, or presenters as necessary, though we will make every effort to notify the submitter.