Order Ribbons
Order Ribbons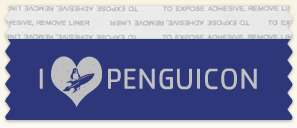 Ribbons! Go to any Midwest Sci-Fi con and chances are you will see colorful ribbons hanging from registration badges. Penguicon loves ribbons! Ribbons can not only be traded and collected, they can indicate a ConCom, staff, or volunteer, panelists, as well as Featured Guests, or even Guests of Honor. Ribbons can have a funny saying, a website address, or indicate something particular about a panel you're presenting. 
Of course you're welcome to bring your own ribbons you purchased elsewhere, but Penguicon purchases ribbons in bulk from one vendor in order to bring the price down for all of us. 
If you'd like to order your ribbons via Penguicon, you can pick them up at registration as you pick up your badge. 
Each different ribbon ordered will have a setup fee:
$4 for less than 50 ribbons

$3 for 50 or more ribbons
Ribbon prices are $0.16 per ribbon.
Premium ribbon colors are $0.18 per ribbon.
You can choose the color of ribbon, the color of text, and the font type as you order. If you're ready, you can hop on over to our Registration and Ribbons Order Form and place your ribbon order(s). 
Ribbon Order Deadline: February 15, 2017 
Have questions? email ribbons@penguicon.org