Maker Market
Maker Market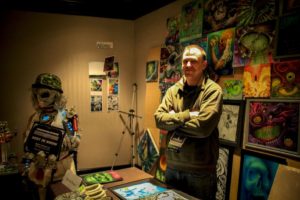 UPDATE: (February 1, 2017) Our 2017 Maker Market Application is now closed. Please check back in March when we will announce the vendors chosen for our Maker Market.
Our Penguicon Maker Market is intended to highlight our community artists, in our version of a "dealer's room". We are accepting applications for crafts, art, and electronic projects to sell, and are only allowing participants that craft or make their goods.This means no store bought resale items will be allowed (with the exception of a book dealer). We believe that this will help foster community and provide exposure for the crafty and talented artists in our group. Resale vendors are encouraged to contact us at chair@penguicon.org about a sponsorship table.
Makers will be selected by a jury of ConCom members, based on quality, variety, type of merchandise, relevance to the Penguicon concepts (Open Source and SF or Retro Geekery), and whatever adds the most to the Penguicon experience. We are particularly interested in Retro arts, crafts, and electronic projects since Penguicon will be celebrating our 15 year anniversary.
This year we will be hosting our Maker Market Artists in the Charlevoix Ballrooms to create a one stop shopping extravaganza for Penguicon. (There will be no hallway tables.) To celebrate our anniversary, our logo's gone retro and so have our prices.Not only have our prices dropped, but we'll also do the following:
– We will have a Maker Market map in the souvenir book, in our Guidebook App that all attendees have access to, as well as a large on-site map to make it easier for our attendees to find you.
– We will promote you to our members in advance of the convention through our web site, mailing list and social media.
– We will award a "Best of Show" based on ConCom votes.There is one style of table available:
– Our SECURED ROOM that locks at night (similar to a traditional dealer's room, with set operating hours)
Policies:
– We're offering a single table to all artists. (A limited amount of two table spots may be available.)
– Max of two tables per artist. (Available only if space allows)
– Badges are not included in the price of a table and must be purchased separately (at an extreme discount of $25)
– Max of two discounted badges per first table. (three badges maximum at the two table limit)
– We do keep a waiting list, so if you are not approved, please let us know if you would like to be on it.
– Max of two vendors per table (both must have signed up for a half table).
– Applications must be received by February 1, 2017,
– Tables must be PAID IN FULL by March 15, 2017 (or your table is released for the waiting list.)
– Additional lighting will need to be provided by vendors
Penguicon Anniversary Maker Market table prices
** Makers in this room will have a 300-character description and a thumbnail photo available in the souvenir book.**
– Full Table: $75
– Half Table: $40
Our 2017 Maker Market Application is now closed. Thank you for your interest.